Not long ago, a friend of mine, who was thinking about writing a book, asked me what the best and worst aspects of the experience were. I answered that the best part is connecting with readers who enjoyed your book and could relate to or learn something from your story. I really don't think there is a downside to having a book published, but if I had to pick something, I suppose the worst part could be doing press to promote your book. The press helps get attention for your book, which gets it into more hands. However, since the message you put into the book in the first place can so easily get distorted by the media, that process can be a double-edged sword.
A few weeks ago, I began a tour to promote my new book The Vegas Diaries. I was 7 months pregnant, fitting the travel in at the absolute last minute. In fact, the book was originally slated to come out in June, but since I was scared that I may not be able to travel in my eighth month, I asked the publishers if they could move the release date up a month, and they kindly agreed. It was my goal for The Vegas Diaries to debut on The New York Times bestseller list, which it did, but not without a few challenges along the way. I wasn't prepared for much of a media firestorm this time around. I thought I would be lucky if the book got any attention at all! After all, unlike my last book, Down the Rabbit Hole, The Vegas Diaries doesn't have the same kinds of name-dropping elements that the media likes to grab onto. This book is just as personal, but I made a point of disguising many of the characters I interacted with in real life. Telling my story, in this case, could be done without revealing most of the identities. I did end up getting a lot of press attention, but unfortunately, most people wanted to talk about old news and not my new book.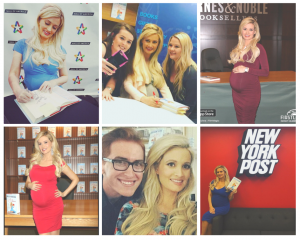 The first day of my press tour involved eight stops before my signing in Brooklyn. Most of them, including The New York Post and Inside Edition, were lovely, but there were two that day that were less so. Even though I have had been doing interviews since I first debuted on TV eleven years ago, the atmosphere is constantly changing and I am still learning. It had been almost a year since I had been out promoting the last book, and the difference that year made was pretty startling. Today, we live in the era of the clickbait headline. Since a salacious, eye grabbing headline is now the ultimate goal, it seems like the rules of the game have changed.
Over the course of the tour, I noticed three major changes.
The first pitfall I noticed is that more  outlets are shady about which topics they are going to cover. I realize this is a symbiotic relationship: I want the media's help plugging my product, and they want a story they think people will be interested in. But there are just some topics I feel are irrelevant to what I might be promoting at the moment and things I'm not interested in talking about any longer because I don't want to beat a dead horse. For example, if not talking about Playboy and some of the people who are still connected to that brand gets me (and my latest book) less exposure, I was and am TOTALLY fine with that. Before my interviews were booked, each outlet was briefed on what I was not willing to talk about. I even turned a few prestigious slots down because they were honest and said "we'll only ask her two questions about Playboy," and my decision was to turn those down because the exposure wasn't worth it to me if I had to touch on that subject at all. I appreciated those outlet's honesty. So many others, though, just asked me the questions anyway once I was stuck in front of the cameras with nowhere to go. There have always been people who do that, but in the past it was rare. These days, it seems to be the rule more than the exception.
The second pitfall has to do with the clickbait headlines themselves. It almost doesn't even matter what you say anymore. Back in the day, it seemed that if you were careful about how you handled the questions that were thrown at you, you were in the clear. Knowing how to navigate an interview was a skill that paid off. Now, you can be as careful as you want, even refuse to talk about things outright, but chances are, the outlet will still make up a headline they wanted before the interview even began- one that may not have anything to do with what you actually said. For example, one interviewer asked me a Playboy related questions and my response was that I was done talking about it because I had said what I needed to say in my last book, which came out a year ago. We continued the interview, the rest of which was very nice and covered a variety of different topics, none of them the "P" word. Later, when I saw the headline attached to that interview, I was surprised to see it read: "Holly Madison talks Playboy and gives dating advice." Uhhhh . . . actually, what I did in that interview was the opposite of talking Playboy, but whatever. That's just one example of how misleading a headline can be. It's frustrating because so many people don't read or watch the whole interview, they just see the headline in passing. In the case of the segment I just mentioned, I can only assume people saw that and thought, Damn, she's still talking about that same old subject? This doesn't do my new book any favors-it makes it seem as if I don't have any new stories to tell this time around, which isn't the case.
The third pitfall I made a note to watch out for is the non-recorded interview. If you find yourself on the phone with a writer who says, at any point during the conversation, "hang on, I'm just jotting this down," RUN! Since most people record interviews, I used to think it was quaint when someone said that. It called to mind an old-fashioned, roving reporter from a 1940's movie, quickly jotting down what their subject said on their notepad with a pencil, all the while looking dapper in a trench coat and fedora. I gave those reporters the benefit of the doubt and just assumed they were really good at their job and could type exactly what I was saying at the speed of a skilled stenographer. But then I saw the product of one of these instances. In that particular piece, I was completely misquoted. I'm sure this was not due to any agenda that reporter had, just carelessness. It doesn't take much in the way of rearranging words to completely change the meaning of what someone is trying to say. And that's exactly what happened, and even though what was written was not what I said, there were still quotation marks around it. Which communicates that this is what I said, when in fact, it wasn't what I said, let alone what I meant. If I said that I thought Down the Rabbit Hole was going to be a word of mouth sleeper but was shocked at the amount of immediate press coverage it got and then the article quotes me as saying something like, "Down the Rabbit Hole was really a word of mouth thing." Well . . . a few of the words used are the same, but it is the complete opposite of what I said and what I meant.
The other component of a book tour, and the flip side of handling press, is meeting people at the signings. It's so wonderful to be able to meet readers in person, and this time, hear about how they connected with my last book. Some had even finished The Vegas Diaries by the time they met me and we were able to talk about it a little.
I returned to The Bookmark Shoppe in Brooklyn and visited Bookends in New Jersey for the first time. I then flew to Dayton and signed at Books and Co., then on to Minnesota the next day for Mall of America. It was so great to have the mix of new places as well as some repeat stops. I was able to see so many people who had visited last year's signings. I am so flattered that they returned! Signings at the Barnes and Nobles in Las Vegas and at The Grove in LA are always a treat. I came home from those with a lot of gifts from you guys-you didn't have to do that, but thank you so much! Rainbow loves her gifts, too!
My second to last signing was in Tempe, Arizona at Changing Hands Bookstore. The signing was wonderful and this was also the day I found out that The Vegas Diaries debuted on The New York Times Bestseller List! A special thanks to Changing Hands for offering to ship personalized, signed copies worldwide. It was fun to look at the addresses as I signed to see how far away some of the books were going!
On the last day of my tour, I flew from Arizona to beautiful La Jolla, California, where I checked into a hotel for a few hours to have lunch and do an Australian radio tour before my signing.After finishing a salad (healthy ambitions), I found myself puking my guts out (this baby boy I am carrying does not like greens, unfortunately). I had to reschedule the radio tour, as I'm sure the sound of me retching was not what they signed up for. I pulled it together in time for my final signing at Warwick's, a store I signed at last year. Everyone at the shop was amazing and I had a great time meeting all the people who came!
Thanks again for stopping by to have your book signed! I appreciate it so much and hope to see you all again, perhaps in a year or two!